Suppliers can download Chemical Inventory List (CIL) history by following the steps below.
Downloading Chemical Inventory List
Click INCHECK on the left menu.
Click Archive.

Hover to the INVENTORY column.
Click to preview the inventory list.

Click EXPORT INVENTORY.
Click EXPORT INVENTORY PDF and also EXPORT INVENTORY EXCEL

Below is a sample of the exported CIL as a PDF.


Upon successful verification of your Chemical Inventory List, the Verified InCheck - Level 1 logo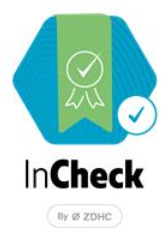 will be awarded to your facility. This can be viewed in your Supplier profile on the ZDHC Gateway.
Click PROFILE.
Click CERTIFICATES, REPORTS, & DOCUMENTS tab.
You can find the verified logo in the CERTIFICATES AND REPORTS section.

Note: If you previously had a Performance InCheck logo assigned, this will be replaced with the Verified InCheck - Level 1 logo if your on-site review was successful.