Who can be a ZDHC Signatory Approved MRSL Certifier?
A Certification Body or Certification Standard organisation can apply to be a ZDHC Signatory Approved MRSL Certifier. Certification bodies comprise of certification entity or laboratory approved by ZDHC to issue certifications or confirms the validity of such certification connected to a chemical product entered in the ZDHC Gateway according to the requirements set by the ZDHC MRSL. The approval process follows the ZDHC Conformance Guidance. A Certification Standard is an umbrella standard/organisation for one or more certification bodies or laboratories that assess chemical formulations against the standard's own requirement and for conformance to the ZDHC MRSL.
Who can access the Solution Provider Platform?
Applications for approval as ZDHC Signatory Approved MRSL Certifier should be made through the ZDHC Solution Provider Platform (https://provider.roadmaptozero.com/experts/company/login). Organisations which are covered under the Solution Provider Engagement Model include:

1. ZDHC Approved Wastewater Laboratories
2. ZDHC Approved Training Providers
3. ZDHC Approved InCheck Verifiers
4. ZDHC Approved Certification Standards
5. ZDHC Approved Certification Bodies
6. Other ZDHC approved experts
If a certification body does not have screening/testing of a formulation as part of its certification methodology, but only an ingredient or document review, does it qualify as a ZDHC MRSL V3.0 Certifier?
The ZDHC MRSL Conformance Level 1, as per the Conformance Guidance V2.0 requires analytical testing as criteria to certify a product for Level 1 conformance. A certification standard or body applying for ZDHC MRSL Level 1 conformance must include analytical testing in its protocol.
Where can you find your login credentials for the Solution Provider Platform?
If your organisation has access to the lab management platform (LMP) as a solution provider, you can use the LMP login credential to access the Solution Provider Platform (SPP). You can reset your password if you have forgotten your login credentials. If you require a personal login (if your organisation has already got access to the SPP), please contact your organisation's admin to provide you with the access. If neither you nor your organisation have access to the SPP, please contact support@zdhc.org.
What payment methods can you use on the Solution Provider Platform?
You can use the following payment methods to pay for your application fee:
PayPal
Credit card
When you are approved, we will invoice you the annual fee, which you can pay by wire transfer.
What should I do if my application fee payment is not processed through the Solution Provider Platform for the approval process?
The application fee payment is supported by PayPal and Stripe systems. The majority of payments can be completed within minutes. You will receive a confirmation on the Solution Provider Platform directly and be able to download your invoice as soon as the payment is approved by PayPal or your credit card company approves this payment. In case the payment does not proceed immediately, please wait for 24 hours for your card company to process this payment. If you think the payment is not successful, please contact ZDHC (support@zdhc.org) after 24 hours for assistance.
How to fill in the application on the Solution Provider Platform?
Once your organisation is registered and verified on the Solution Provider Platform, you can fill in the application with the relevant documents and information.
The application can be found in the left menu under "Your Application", as in the following screenshot: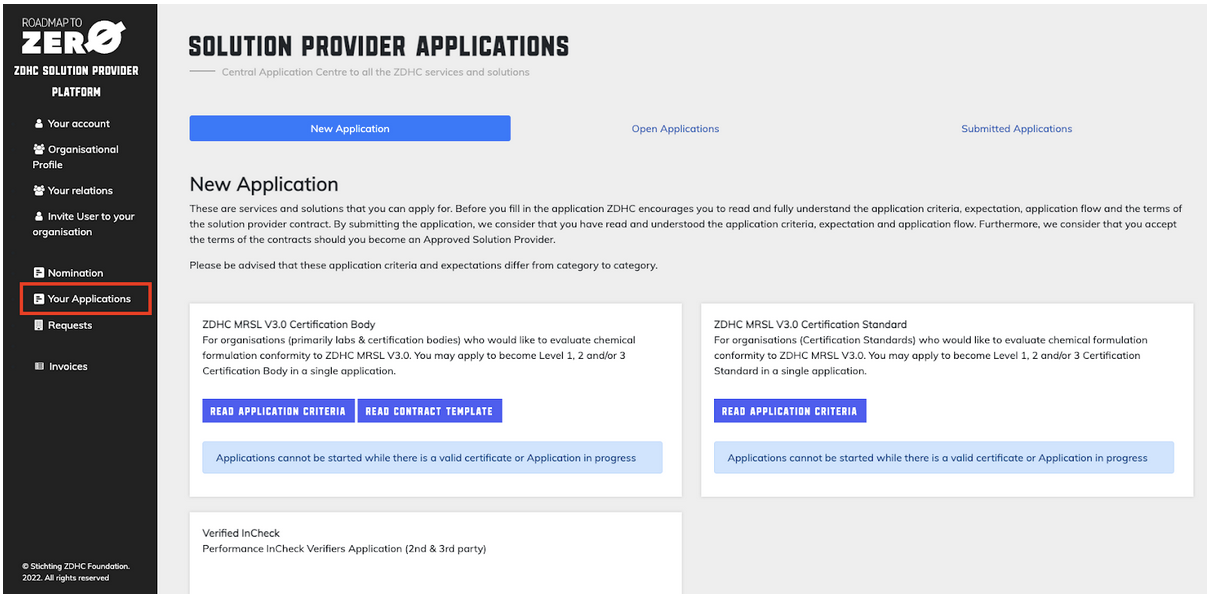 The sections to be filled in are included in the "Organisational Profile", as in the following screenshot: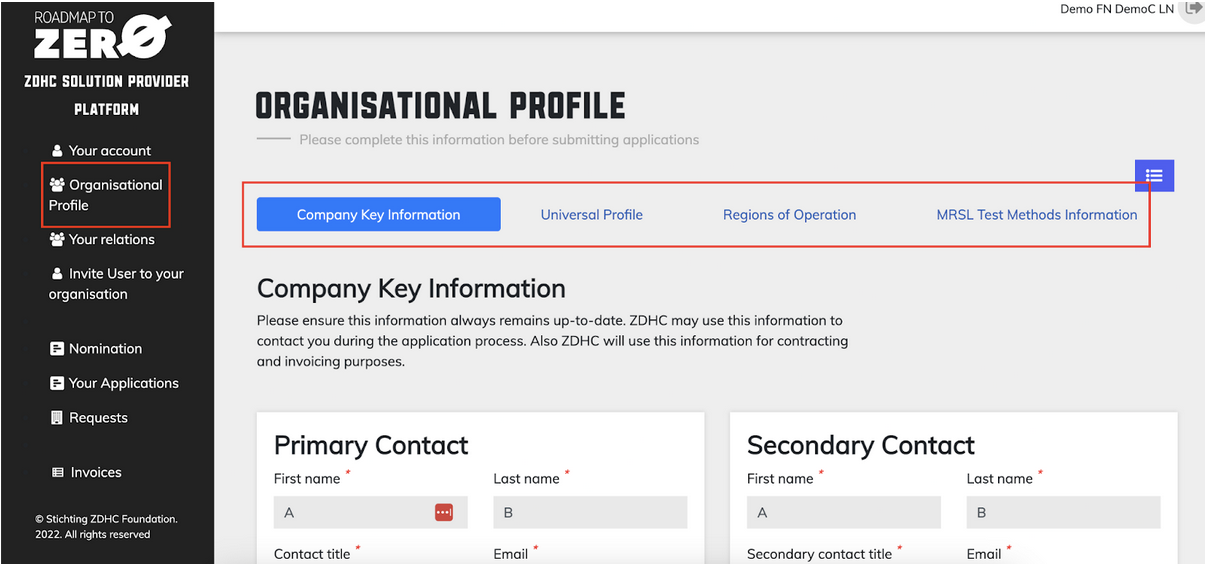 and also in the application, there are all the questions to be answered: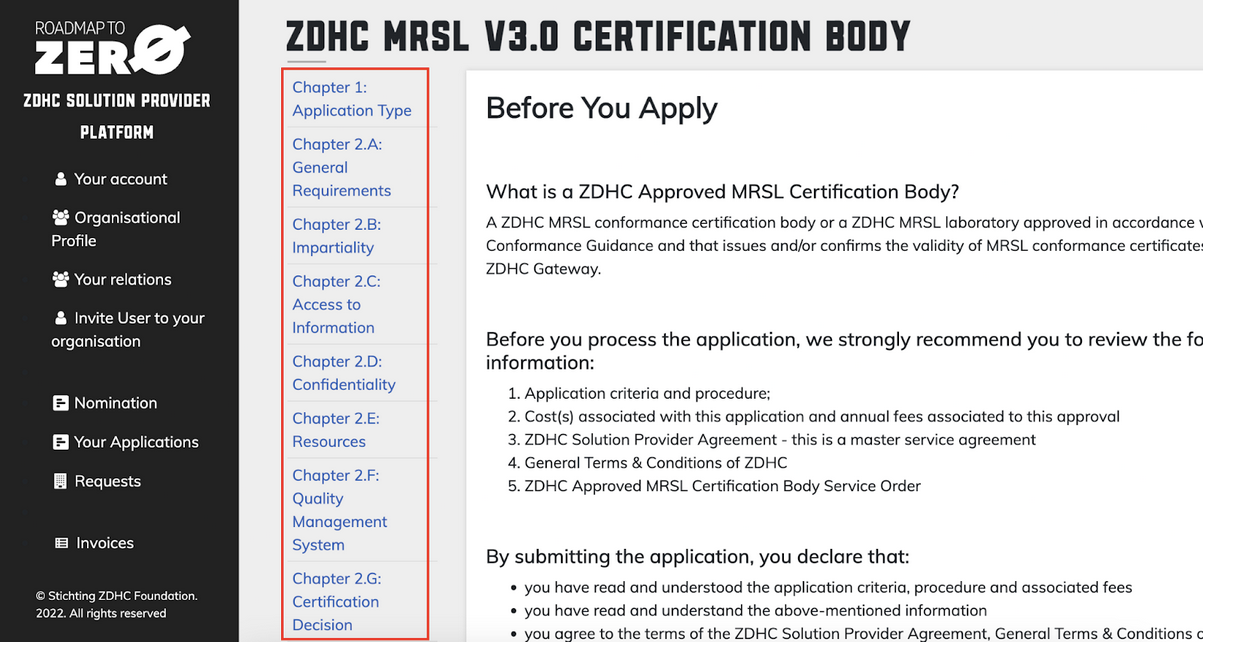 You need to answer all the questions in chapters 1, 2 and 6.
Chapters 3, 4 and 5 need to be filled in only depending on the MRSL level(s) required to be approved.
Once you have finished filling in the application, you need to proceed with the payment which can be done via credit card or via bank transfer.
Tricks
If more than one document needs to be uploaded in each question, then one .zip folder needs to be uploaded. It is not possible to upload more than one.

A general comment from the MRSL Certifiers is not possible, so a mail needs to be sent to review@zdhc.org