Formulators wanting to use the ZDHC Gateway and its functionalities, need to be on a subscription plan at all times and purchase product add-ons. You can find information on how this works and why it is important below. In case you have not registered on the Gateway yet and you want to read more about the initial process click here.
01/ Reviewing, upgrading or renewing your subscription
During renewal, you can either renew based on an existing subscription or upgrade your subscription. You will automatically be subscribed for one year if you upgraded your subscription. However, if you're subscribed to a Pro subscription and want to upgrade, the start date and expiry date of your existing subscription won't change. Once expired, you will be registered to the upgraded subscription you've purchased. If you have not renewed your subscription by the time your old one expires, you will be directed to the subscription page when you log in. In case your subscription is not close to expiration, you still have the option to upgrade your subscription by adding more products and add-ons.
Follow the steps below to learn how to renew and upgrade:
Click on the user icon at the top of the page

Click on Subscription Settings to look up your current subscription plan.
If your subscription is close to expiration, you will see a RENEW SUBSCRIPTION button in the right corner. If your subscription is still active, you will see an UPGRADE SUBSCRIPTION button in the right corner that allows you to make changes to your current subscription.

If your subscription is still active, you will see an UPGRADE SUBSCRIPTION button in the right corner that allows you to make changes to your current subscription.

To renew or upgrade your subscription, you can now select a plan and indicate the products and add-ons needed. To download the current pricing list, click on the information icon.

Choose between Pro Standard and Pro Enterprise for NEW SUBSCRIPTION. If you are a member of ZDHC/TEGEWA/ETAD/ ADIF, make sure to choose Pro Enterprise in order to receive your discount.
02/ Payment methods
Review the Subscription, Billing Information and Transaction Log.
Note: An upgrade duration is automatically accounted for a one-year subscription. If you want to upgrade within the year, the expiry date remains the same.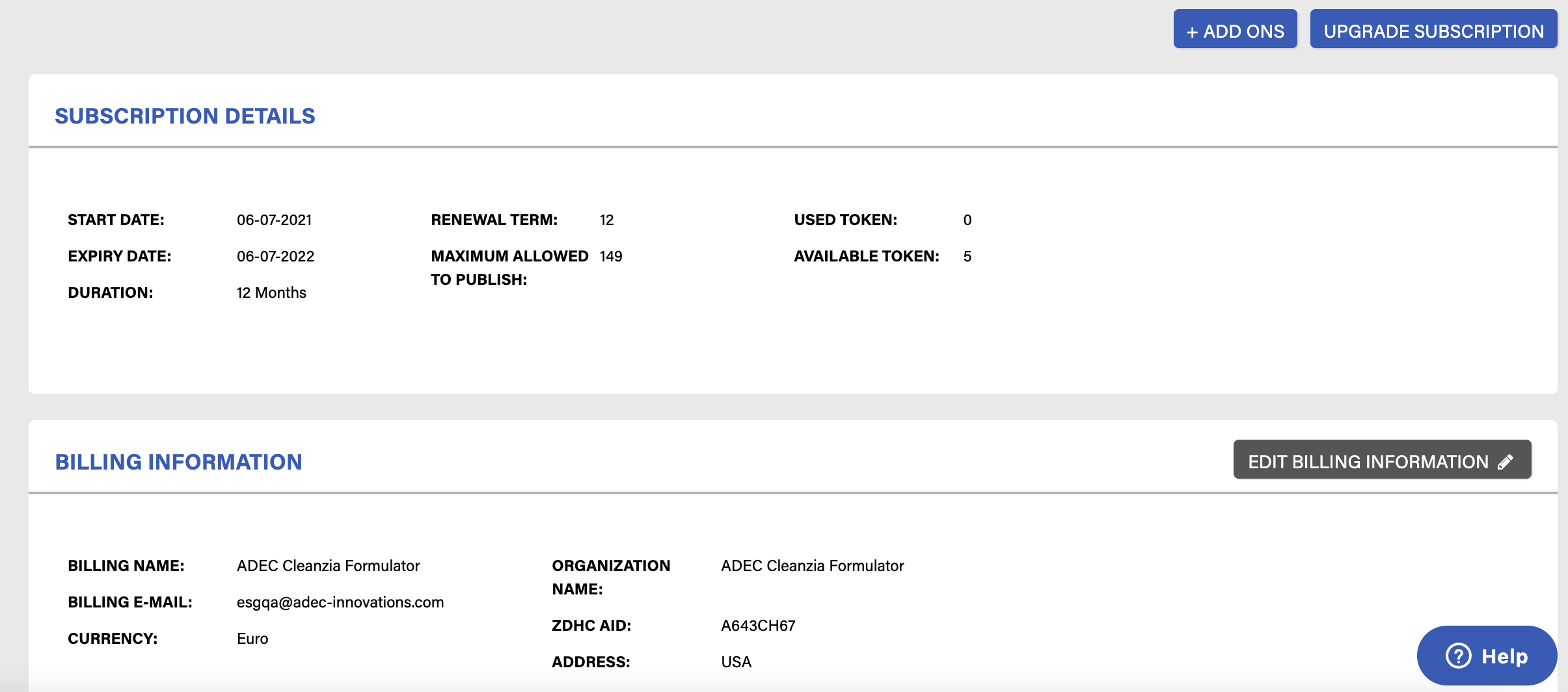 Choose your preferred subscription as described above and select the payment method.

a) For Credit Card transactions, follow the steps below.
Fill out the required fields. For more information on the accepted credit card security code formats, click on the question icon next to Security Code.
Check the green box to agree to the terms and conditions.
Click CONFIRM PURCHASE.


b) For Invoice(Wire or Invoice) transactions, follow the steps below.
Check Invoice-Wire.
Click CONFIRM PAYMENT.

03/ Product ADD-ONS
Users with Pro and Enterprise Subscription may purchase Additional Public Products as ADD-ONS any time. Add-ons allow you to publish non-Level 2 and non-Level 3 products.
To purchase add-ons upon your existing subscription:
Click on the top right page.
Click Subscription Settings.

Click +ADD-ONS.

Click EXISTING SUBSCRIPTION.

Note: The ADD-ONS section is added to the bottom section of the page.
Indicate the quantity of non-level 2 and non-Level 3 products you would like to purchase.
Click ADD.


Click YES to checkout.

You will be directed to the ADD-ONS CHECKOUT PAGE.
Select the payment method.

Click CONFIRM PAYMENT.

Refer to 02/ PAYMENT METHODS if Billing Details are unavailable.


04/ Frequently asked questions
What is the validity period for a Pro plan subscription?
Subscription is valid for 1 year and you would need to renew your subscription annually.
What will be the commencing date for the subscription validity period?
The validity date is based on when your payment is received.
How long is a subscription in the ZDHC Gateway valid?
For one year upon subscription start date
Is there an auto-renew function in place in the Gateway or do I need to manually renew the subscription?
There is no auto-renew function and you will need to renew the subscription in their Gateway account themselves.
When will I get reminded that my Gateway subscription ends and who will get the notifications?
Reminder emails are sent 28, 21, 14 days before the subscription expires. During the last week, a reminder is being sent every day. The reminders are sent to the organisation billing contact that you indicated in your organisation profile in your Gateway account.
When can I renew my subscription?
Subscriptions can be renewed from as early as 28 days (date of first email reminder) prior to subscription end, so it does not have to be on the anniversary of the expiration date. Should you decide to pay with a wire-transfer process, you are encouraged to renew your subscription earlier to ensure payment is received on time and there is no interruption in their service, as payments may take up to 10days to clear.
What happens if I forget to renew my subscription on time?
If your subscription has not been renewed on time and will expire, then your account will by default go to the Trial Plan of the subscription. Under the Trial Plan all your published products will be set to private and won't be visible to Suppliers and Brands anymore.
I am currently in the Pro Standard subscription, what options do I have when renewing?
You have two options and you can either select "renew existing" and your current Pro Standard subscription will be renewed or you select "new subscription" and you will have the option to upgrade to a Pro Enterprise subscription. You will then however need to indicate in the text box why you are applying for the Pro Enterprise subscription.
Who is eligible for a fee discount?
Formulators who are either a ZDHC Contributor or a member of one of the following organisations TEGEWA/ETAD/ADIF can apply for a discount by requesting the Pro Enterprise subscription and indicating which of these cases are applicable to your organisation. The discounts are: ZDHC Contributors are completely exempted from the Annual Access Fee and receive a 50% discount on the Annual Product Fee. Members of TEGEWA/ETAD/ADIF/ receive a 50% discount on the Annual Access Fee.
I am currently in the Pro Enterprise subscription and eligible for a fee discount. Will I receive that discount again upon renewal?
Yes but this will not happen automatically again. When renewing your subscription, you will need to indicate the reasons why you are eligible for a discount again when selecting the Pro Enterprise upon selecting "new subscription". Please also note that the ZDHC Customer Support Team will need to review it again. Once approved you will receive an email notification and you can proceed with the payment (if applicable) and finalise the renewal of your subscription.
After my subscription has expired and has been downgraded to the Trial Plan, will my previously published products be automatically published again upon Pro Standard/Enterprise subscription renewal?
No, they will need to be published manually again.
When finalising my subscription, will I receive an invoice?
No, you will not receive an invoice. When you finalise your subscription in the Gateway, the total amount of your fees will be displayed and you will be asked to make the payment directly. In addition, you can select the option to have an invoice generated which you can then download for your own archiving purposes.
Can you increase the number of total products to be published during your subscription?
Yes, that is possible. To increase the total number of products you would like to publish on the ZDHC Gateway you will need to upgrade your current subscription. In your profile Subscription Settings, select "Upgrade Subscription" which will take you to the Upgrade Subscription page. Complete the relevant form and make the payment. Pro Enterprise subscription users will receive a link via email to make payment once the request is reviewed.

Adding more total products to be published leads to a higher threshold for the Annual Access Fee, how will this be calculated during your subscription?
Your subscription upgrade is only activated for the duration that is left on your current subscription. Therefore the cost of the upgrade is the difference between your current and new subscription package, less the prorated cost of the remaining 12 month subscription.
What are add-ons and when does a Formulator need to purchase add-ons?
Besides the usual annual subscription fee to access the ZDHC Gateway, the formulators can also purchase chemical product tokens (add-ons). These chemical product tokens (add-ons) are needed if a formulator wants to publish Level 0 and Level 1 chemical products. To publish chemical products with a higher Level such as Level 2 and 3 no additional tokens are needed.
Can you change the number of add-ons during the subscription period?
You can purchase additional add-ons at any time during their subscription period. Decreasing the number of add-ons is however only possible at the time of subscription renewal. ZDHC does not issue refunds on purchased add-ons in case you purchased too many.
When adding additional add-ons during the subscription period, will the add-ons be invoiced pro-rata to the remaining subscription period?
Yes. Additional add-ons purchased during the subscription period are prorated based on the remaining subscription duration. They will however expire at the end of the active subscription period. It is important to note when purchasing add-ons, that these can only be applied to the existing subscription package.