Why has the terminology been changed?
Effective June, 2023 some of our terminology will be changing to align with the 2030 Impact Strategy. As we move away from a growth strategy towards an impact strategy, we need to further define our programmes and parameters as we move towards our 2030 goal.
The terminology is differentiated between organisations and products within ZDHC's programmes and parameters. This will define the separation between them. As we continue to raise the bar in the industry, the Roadmap to Zero Impact Leader programmes and parameters will continue to grow.
ZDHC Contributors changing to Signatories explained.
ZDHC Contributors are now called ZDHC Signatories.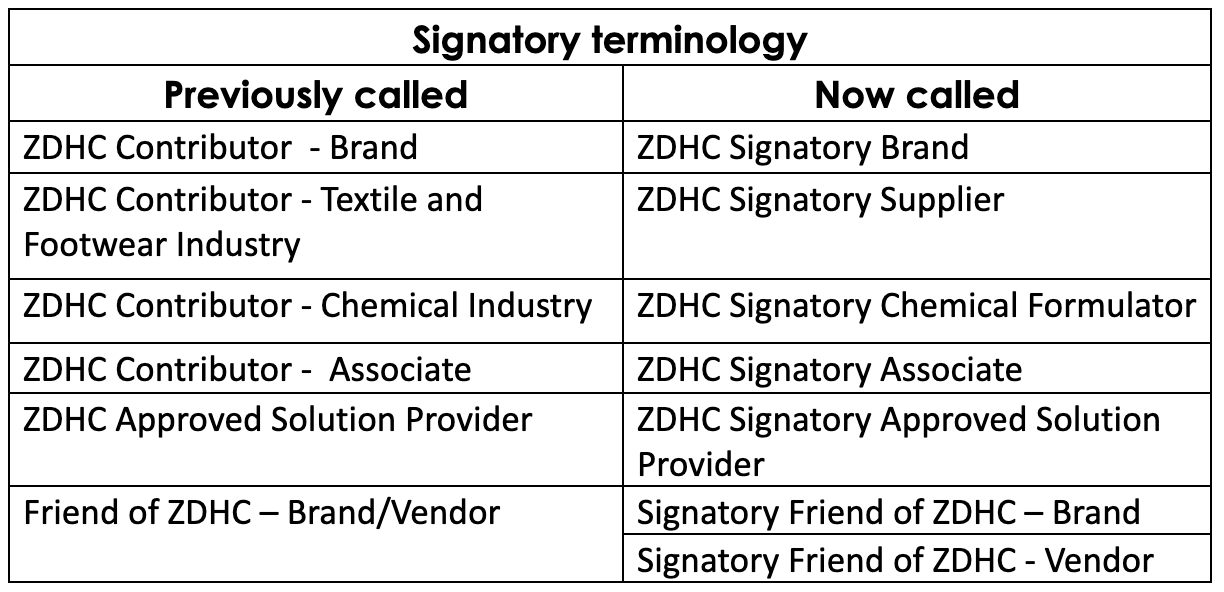 ZDHC Leaders to Zero changing to Roadmap to Zero Impact Leader Programme explained.
ZDHC Leaders to Zero has become Roadmap to Zero Impact Leader Programmes.
Within each Impact Leader Programme (for organisations) the terminology to define the levels: Foundational, Progressive, and Aspirational has also changed. They will now be called Impact Pioneer, Impact Accelerator, and Impact Champion.

Is the terminology for parameters changing e.g. wastewater testing guidelines?
Terminology for parameters within our guidelines and solutions remain as-is for products and will continue to be listed as Foundational, Progressive, and Aspirational.
Can I be an Impact Leader if I am not a Signatory?
No. Only Signatory Brands, Suppliers and (in the near future) Chemical Formulators can be Impact Leaders.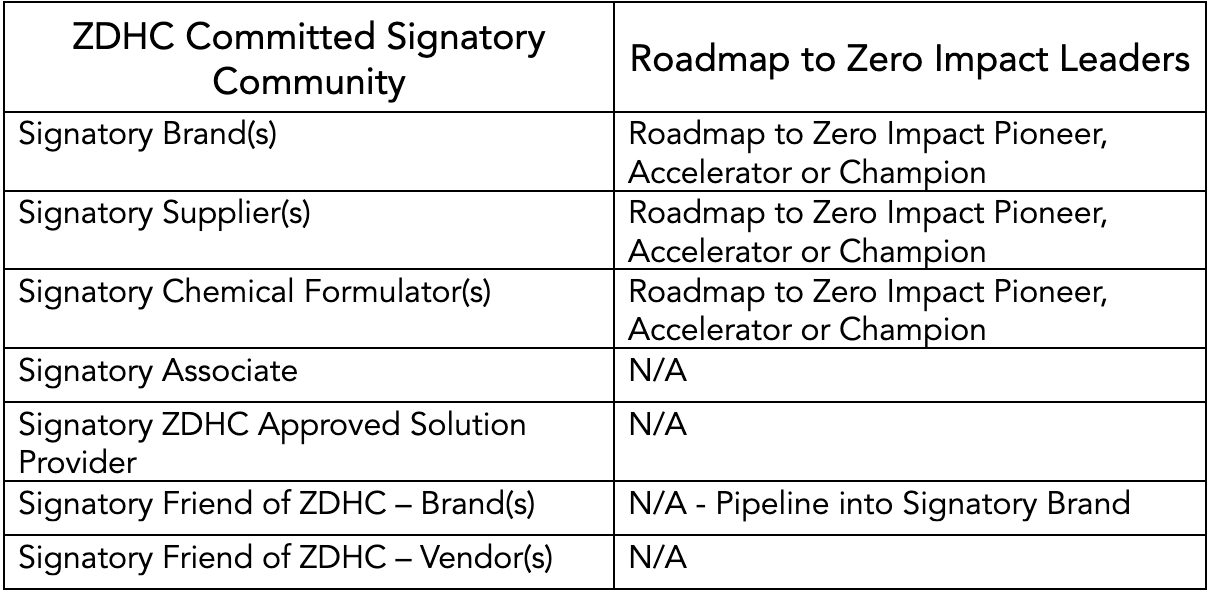 If a supplier is not a Signatory but has completed the Supplier to Zero Programme, are they an Impact Leader?
If the supplier is not a Signatory Supplier they cannot be an Roadmap to Zero Impact Leader, and therefore cannot be granted Impact Pioneer, Accelerator or Champion status. However any supplier (Signatory or non-signatory) can complete the Supplier to Zero Programme and obtain certification.
Certification levels within Supplier to Zero for non-signatory suppliers terminology has changed from Foundational, Progressive, and Aspirational Level to Supplier to Zero Level 1, 2, and 3.
A supplier who self-declares that they meet the ZDHC CMS and TIG requirements is
defined as a Supplier to Zero Level 0.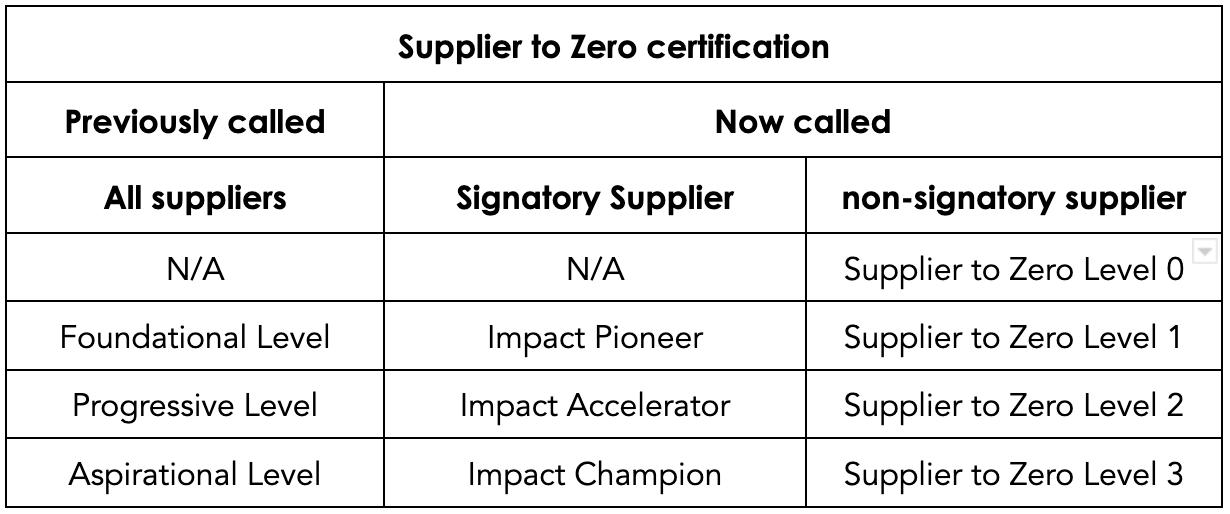 Is a supplier's Supplier to Zero certification still valid even though the terminology has now changed?
Yes. A Supplier to Zero certificate is still valid up until the valid date on the certificate. When the supplier re-applies for a new certification the terminology on the new certificate will be changed to the following:

How will the levels within the Supplier to Zero certification be displayed on the ZDHC Gateway?
The ZDHC Gateway Supplier to Zero will continue to indicate the supplier's (Signatory and non-signatory) with a star symbol.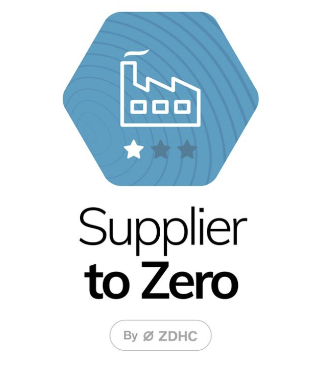 Due to the transition period, when a certificate is downloaded the reader will see any of the following terminologies: Foundational or Progressive Level, Impact Pioneer, Accelerator, or Champion, Supplier to Zero Level 1, 2, or 3. Which terminology is shown is based on two factors: The date the certificate was published and if the supplier is a Signatory Supplier or a non-signatory supplier.
Data downloaded from the ZDHC Gateway will also contain a mixture of the three terminologies for this transition period.
When does this new terminology come into place?
As of June 2023 we will be using the new terminology in any new documentation and communications.
Can I still use the old terminology?
You may use the old terminology when referring to work completed in the past (up to June 2023). E.g. you may wish to say in 2022 you were a ZDHC Contributor who achieved Leaders to Zero Progressive Level.
When referring to any work post June 2023 or anything in the present tense please use the new terminology. E.g. We are proud to be a ZDHC Signatory Supplier.
Why can I still see a lot of the old terminology used within ZDHC documents?
It will take us some time to update all our documentation across all our guidelines, platforms and solutions. Some documents will only have terminology updated when they are due for a full update. Please bear with us as we go through this transition.
Are there any changes to the Roadmap to Zero Impact Leaders Programme Level's requirements or is it just a terminology change?
There is no update to the requirements of each level within the Roadmap to Zero Impact Leader Programmes.